Just over a year ago, I made the daring move from my dearly loved iPhone 6s to a product out of the seamless and easy Apple ecosystem: the OnePlus 5T. As most people who end up making the switch from iOS to Android, I found myself expecting to miss two apps in particular: FaceTime and iMessages. Soon after the switch, however, I found myself missing one app considerably more than the others: Apple Wallet.
Any frequent flier knows that quick access to their boarding pass is one of the golden keys to flying hassle-free. From bag drops to security checkpoints and even certain duty free shops, an efficient way to pull up the pass equals a speedy trip across the airport.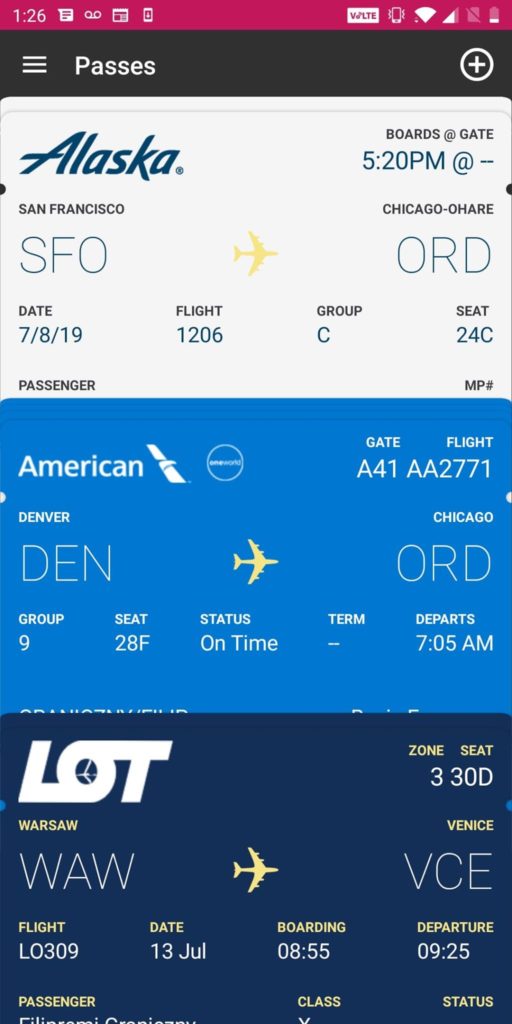 When traveling with my new Android, I missed the convenience of having all of my passes in one place — organized by airline and archived automatically after each flight. With some free time and access to American Airlines' inflight wifi I found an app that has revolutionized my travel experience at the airport: WalletPasses.
The app in itself does nearly exactly what Apple Wallet allows you to do. It saves passes in one place and displays the data in organized tabs sorted by airline. It even comes with a built-in browser that allows you to use the "Add to Apple Wallet" button.
Additional features of the app include:
Automatic pass updates with notifications (for example: gate change, delay)
Relevance-based display of passes on lock screen (based on location, bluetooth, etc)
Embedded scanner (you can add your own QR & bar codes!)
Automatic brightness adjustment when using pass (so those TSA scanners can scan the code on the first try)
Needless to say, this simple app by the Wallet Passes Alliance is a true game changer for frequent flying Android users. Gone are the days of saving a picture of our boarding pass to the camera roll and then mistakingly pulling up the wrong one. Hmm, maybe the switch to Android wasn't so bad after all.
Get WalletPasses Here: Google Play Store
Facebook Comments